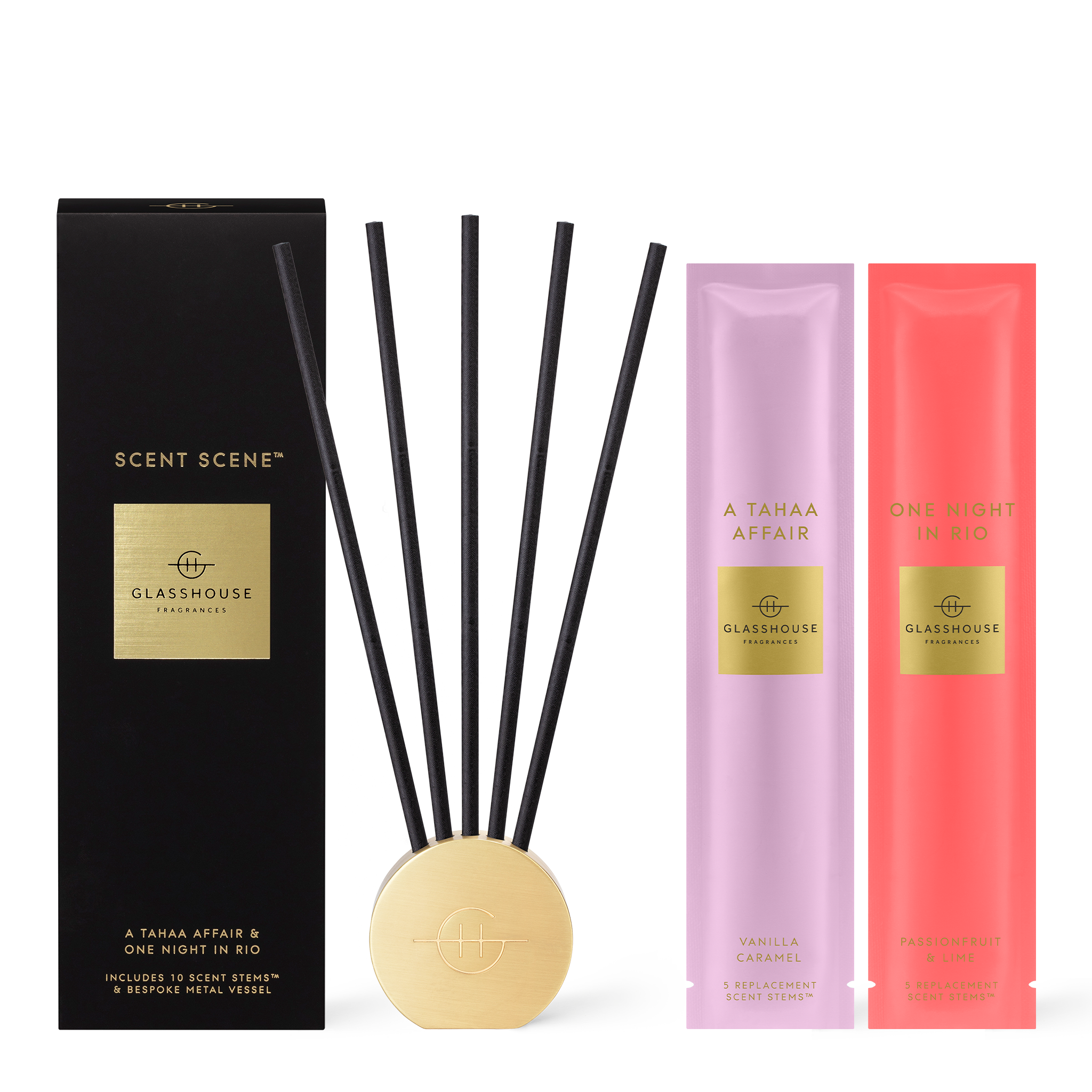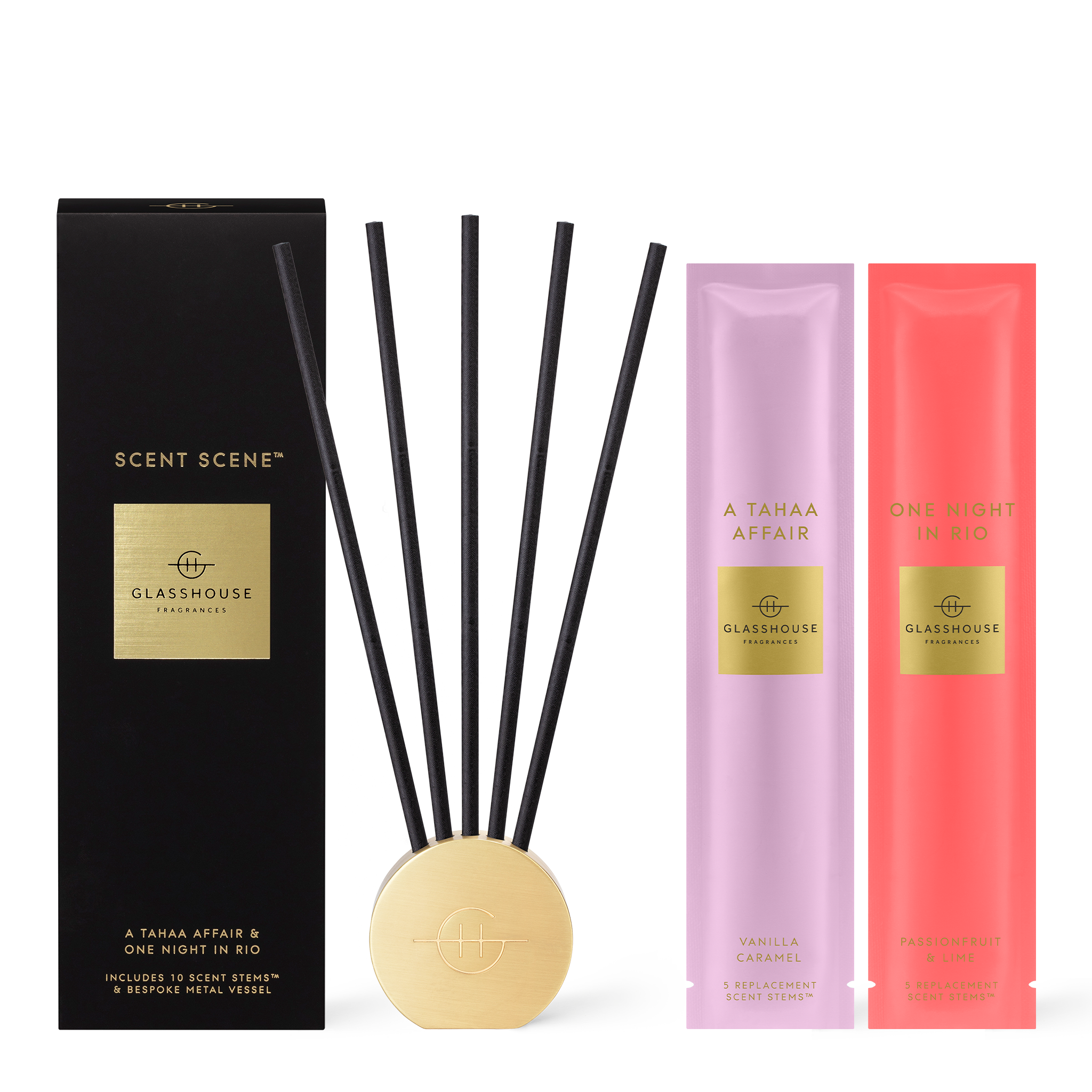 Scent Scene™ Duo
${ currentVariant.price | currencyFromCents }
${ currentVariant.compare_at_price | currencyFromCents }
${ product.price_min | currencyFromCents } - ${ product.price_max | currencyFromCents }
${ product.price | currencyFromCents }
${ product.compare_at_price_max | currencyFromCents }
Assorted Fragrances
Scent Scene™
An innovative (and incredibly potent) liquidless diffuser. This set features two popular gourmand scents, A Tahaa Affair and One Night in Rio.
Instructions

The Scent Scene™ Duo includes two individually packaged Scent Stems™ fragrances: A Tahaa Affair Vanilla Caramel and One Night In Rio Passionfruit & Lime. To use place your Scent Stems™ of choice into the metal vessel, ensuring it's placed on a flat surface away from open windows or vents. After 30 days, or a time of your choosing, swap out the Scent Stems™ for the other supplied fragrance.

Replacement Scent Stems™ are sold separately, with seven fragrances to choose from. We suggest replacing your Scent Stems™ every 30 days to refresh your fragrance or to increase their strength. After 30 days the Scent Stems™ can be placed in recycling with other paper products.

Shipping & Returns

Standard Delivery: $9.95 or free for orders over $75. Please note orders containing a Fragrance Diffuser or Hand Sanitiser are not eligible for free shipping. Delivered within 2-7 business days.* More info
Express Delivery: $14.95. Delivered within 1-3 business days.* More info
Returns: We accept returns within 30 days. T&Cs apply
About the Fragrance
Fragrance Family
Caution
A Tahaa Affair: A transcendent everyday luxury, it creates instant ambience. Ambrosial with luscious caramel and coconut, it'll take you to the beaches of Tahaa.
One Night In Rio: Feel the beat of a thousand feet dancing to the rhythm and laughter on the street. Ripe passionfruit, lime, raspberry and orange keep you moving. Electrified and enlivened to maintain the pace all day and all night with this city at carnival.
A Tahaa Affair Vanilla Caramel and One Night In Rio Passionfruit and Lime are part of the Gourmand fragrance family.
Keep away from children and pets. Keep away from heat and flame.DO NOT IGNITEAvoid contact with furniture, fabrics and finished surfaces. May cause staining, use only with supplied metal vessel.
I seriously have no words to describe how amazing this product is.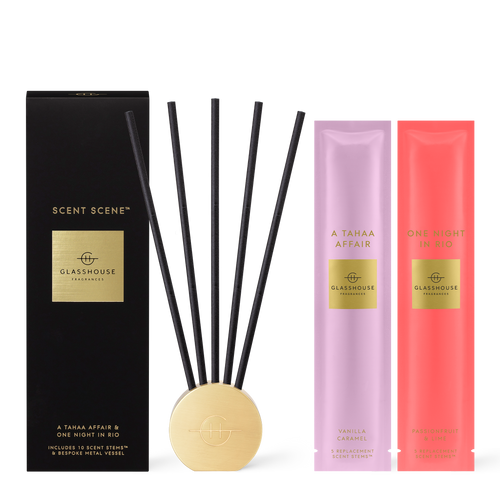 Scent Scene™
Assorted Fragrances