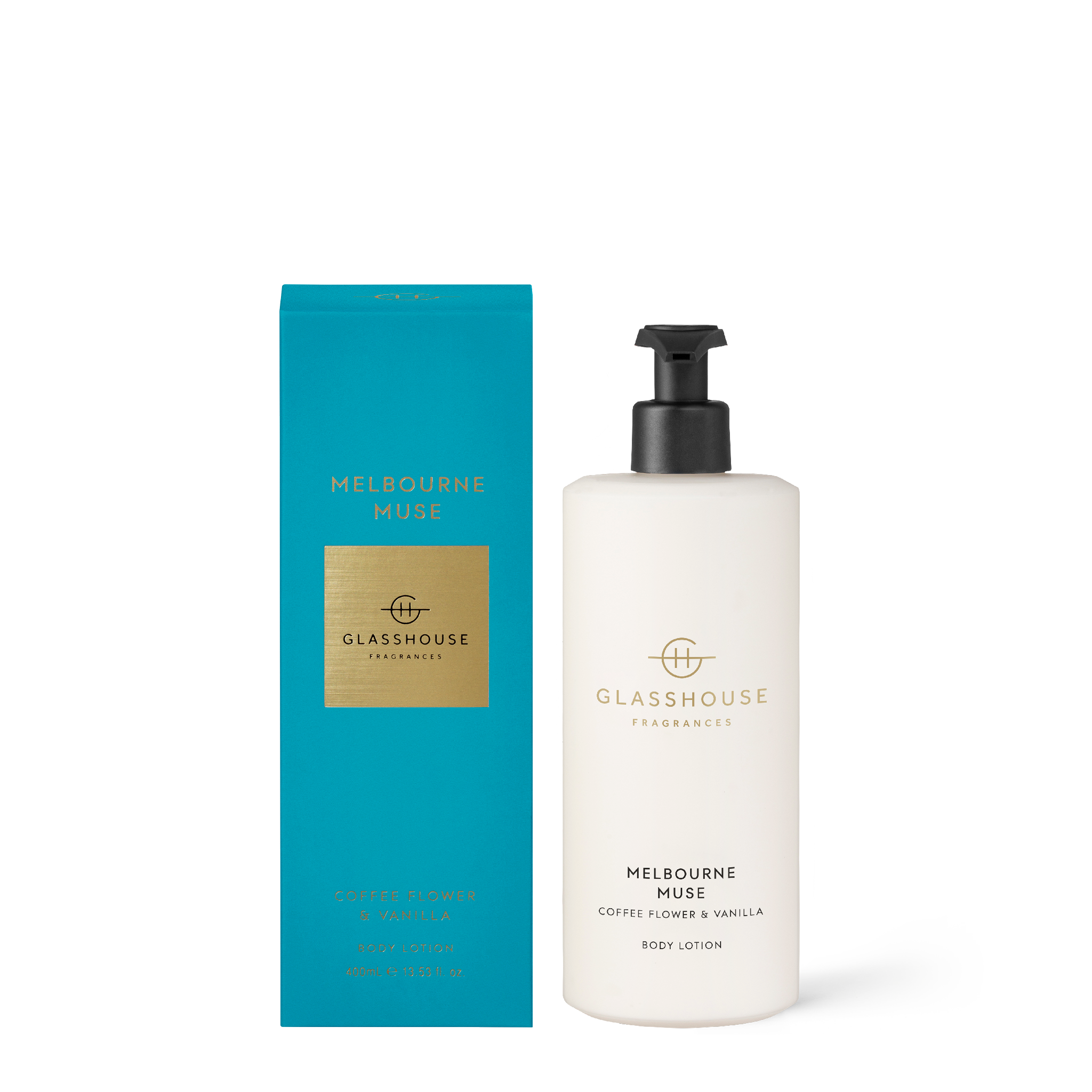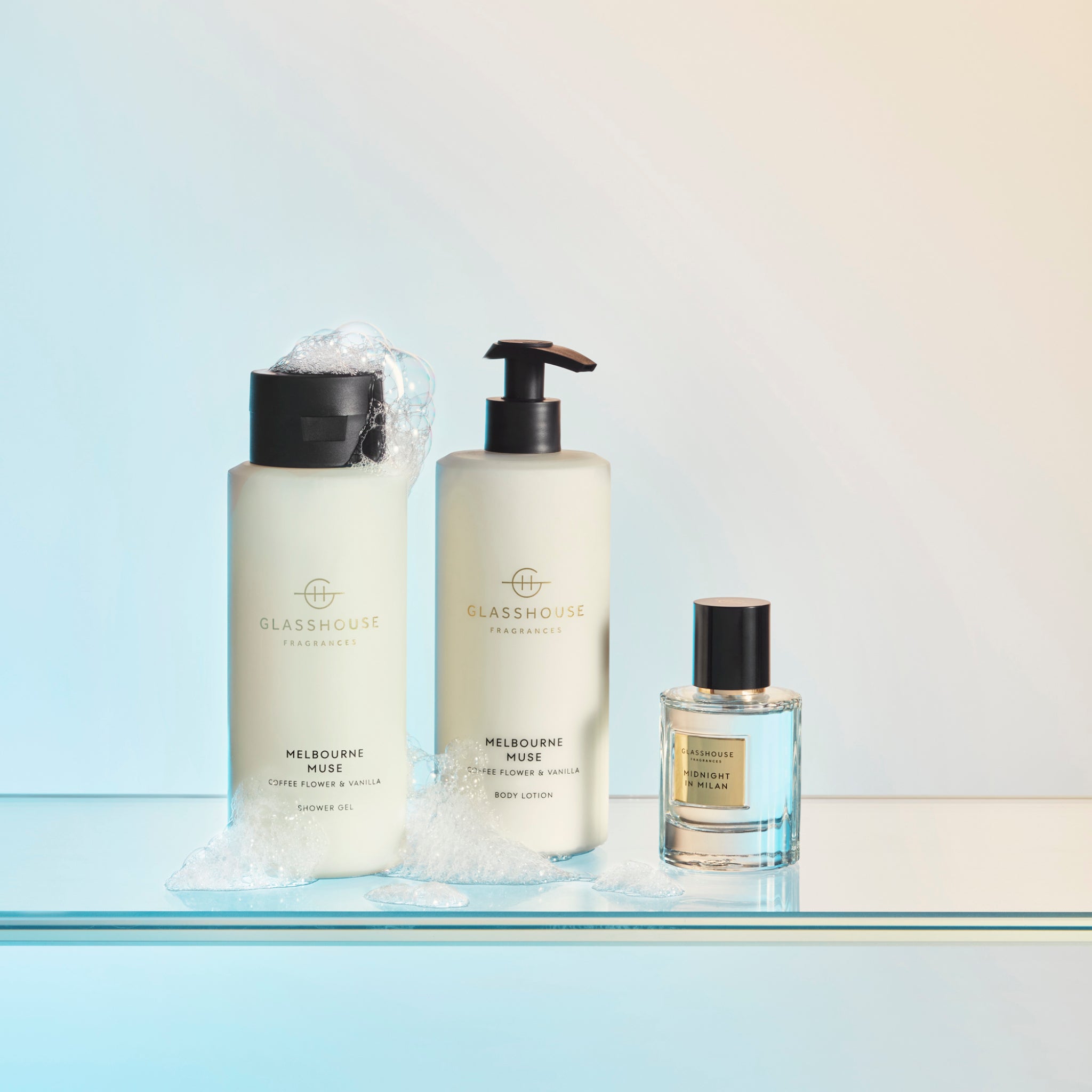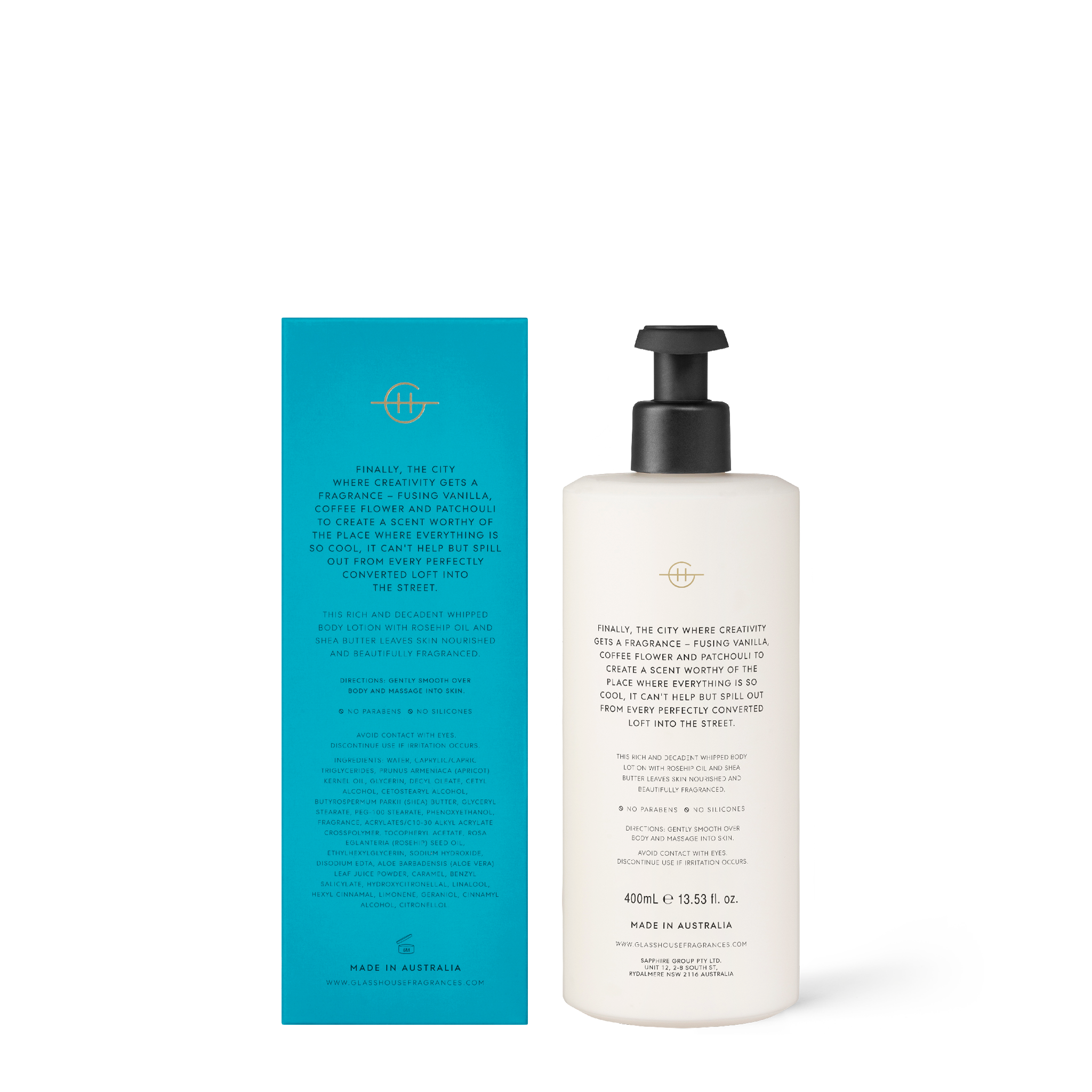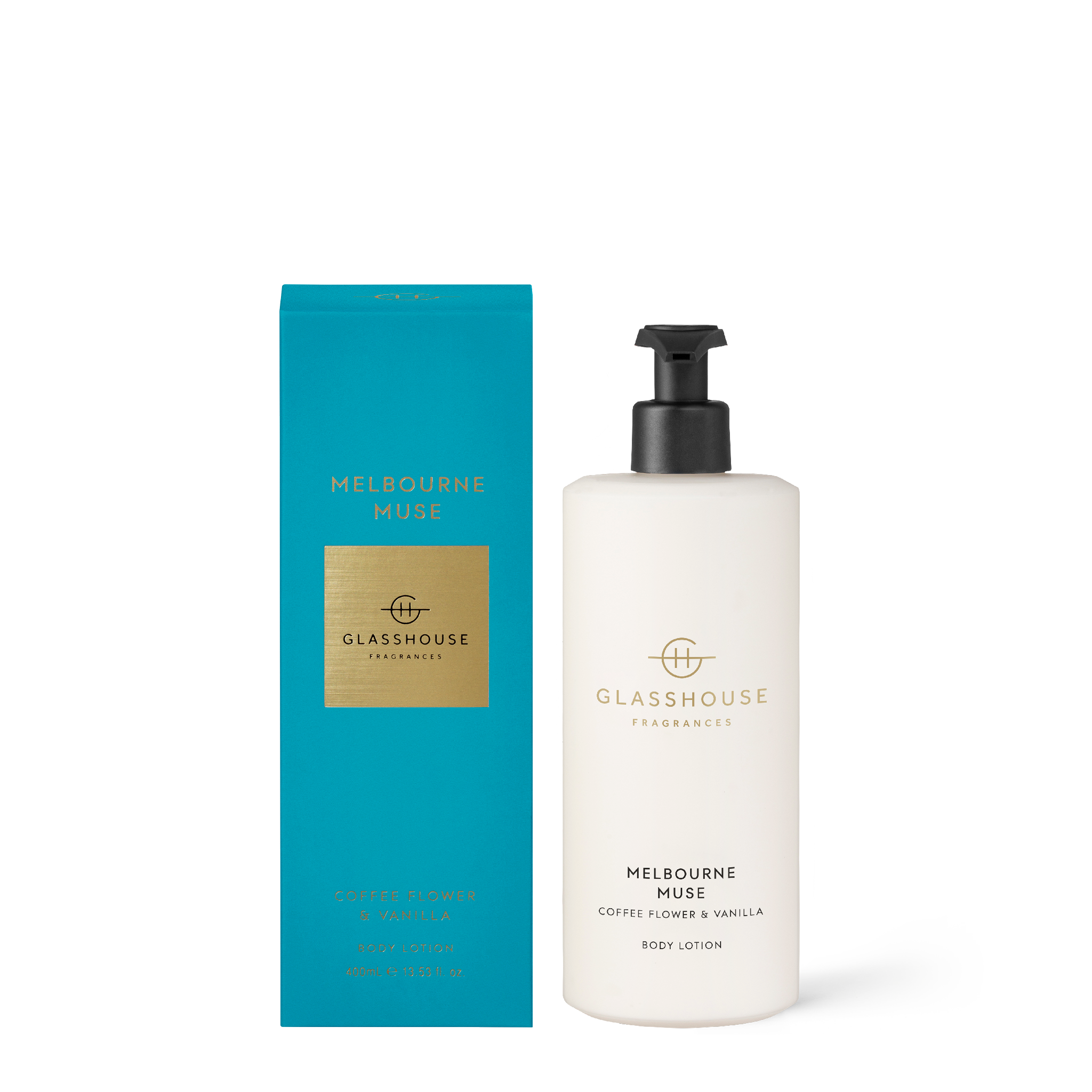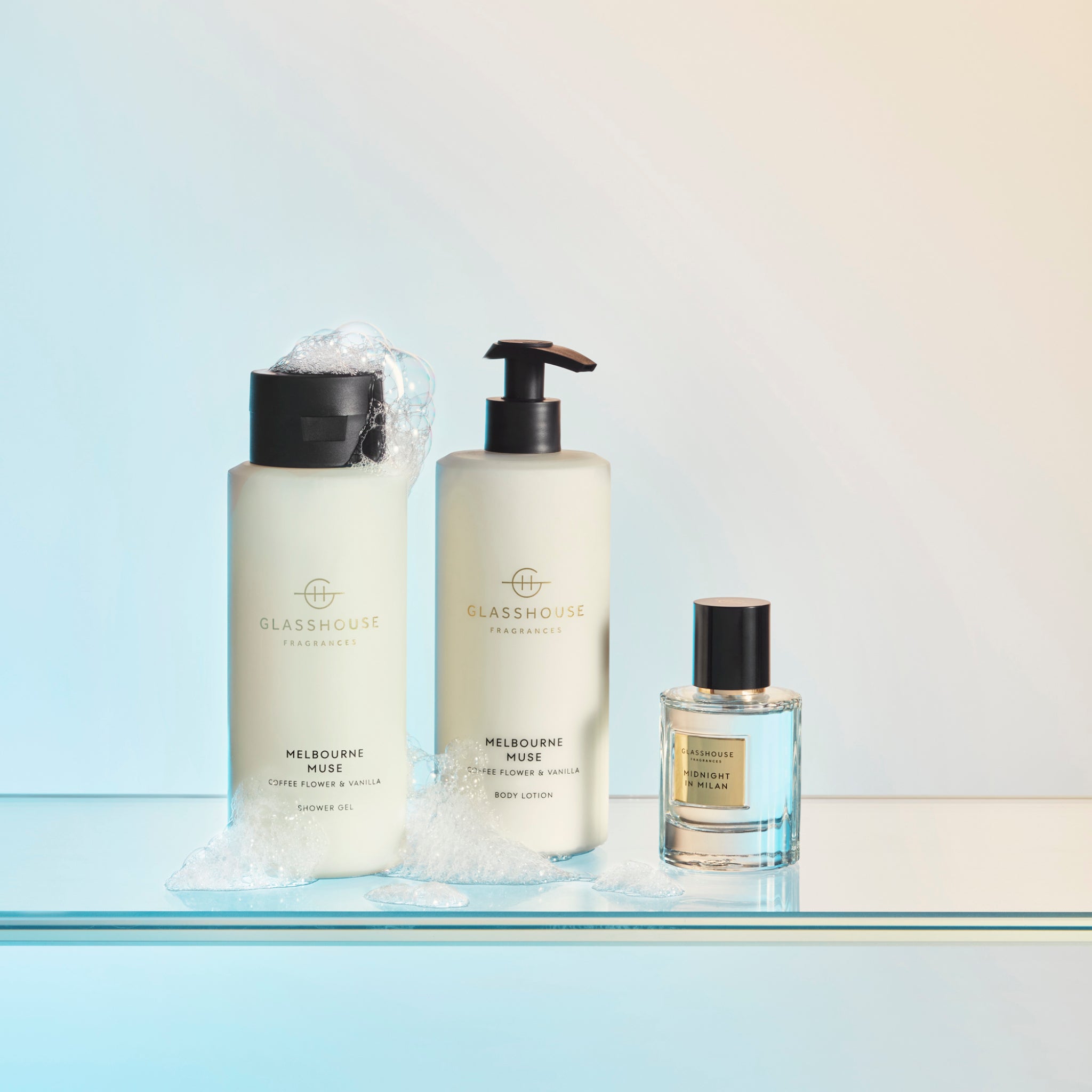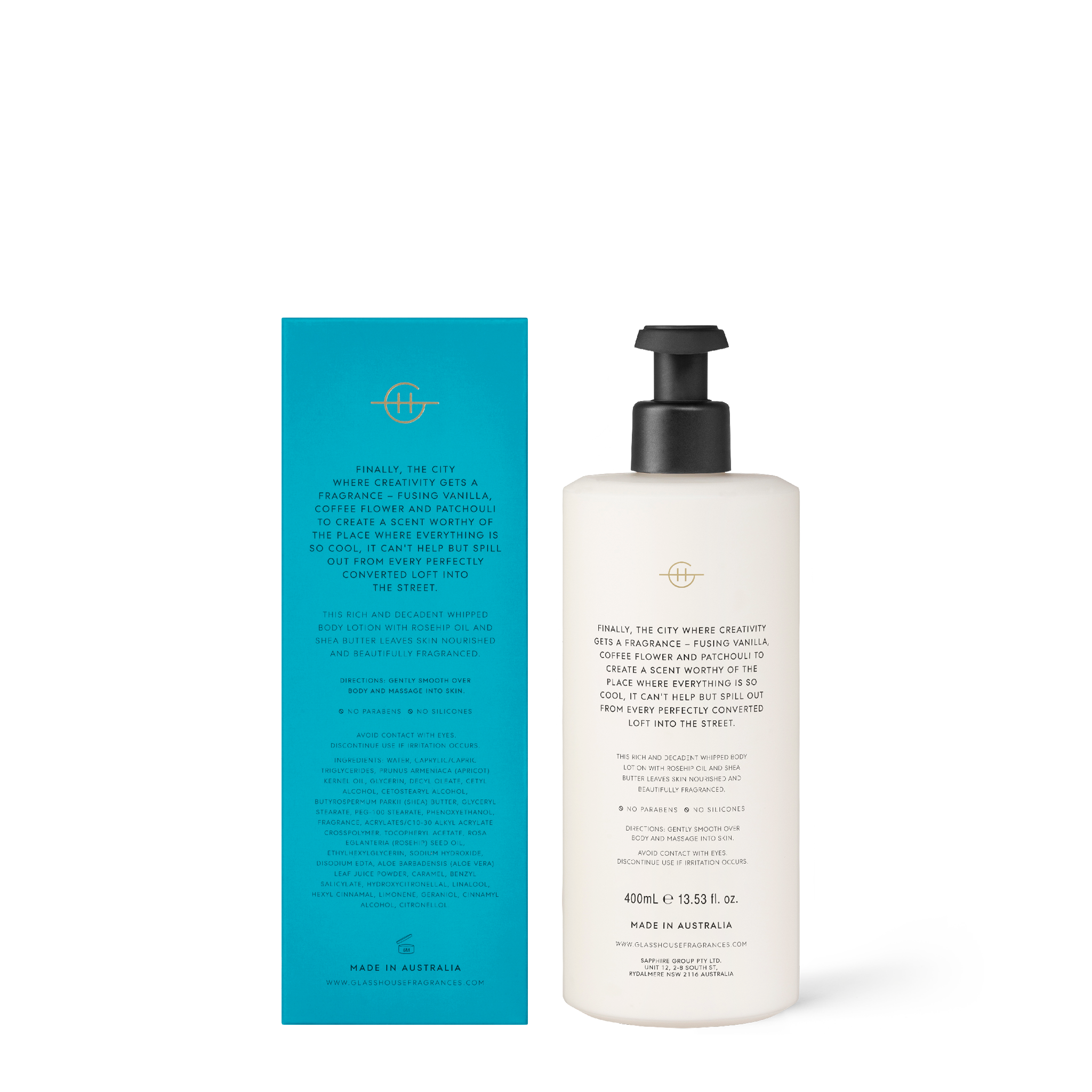 Melbourne Muse
${ currentVariant.price | currencyFromCents }
${ currentVariant.compare_at_price | currencyFromCents }
${ product.price_min | currencyFromCents } - ${ product.price_max | currencyFromCents }
${ product.price | currencyFromCents }
${ product.compare_at_price_max | currencyFromCents }
Coffee Flower & Vanilla
400mL Body Lotion
A restorative, whipped body lotion rich in nourishing shea butter and rosehip oil. A complex scent led by vanilla, coffee flowers and orange blossoms.
Fragrance

Top Notes: Acacia, Neroli, Orange Flower
Middle Notes: Coffee Flower, Jasmine, White Floral
Base Notes: Patchouli, Sandalwood, Vanilla
Ingredients Water, Caprylic/Capric Triglycerides, Prunus Armeniaca (Apricot) Kernel Oil, Glycerin, Decyl Oleate, Cetyl Alcohol, Cetostearyl Alcohol, Butyrospermum Parkii (Shea) Butter, Fragrance, Glyceryl Stearate, PEG-100 Stearate, Phenoxyethanol, Acrylates/C10-30 Alkyl Acrylate Crosspolymer, Tocopheryl Acetate, Rosa Eglanteria (Rosehip) Seed Oil, Ethylhexylglycerin, Sodium Hydroxide, Disodium EDTA, Aloe Barbadensis (Aloe Vera) Leaf Juice Powder, Caramel, Benzyl Salicylate, Hydroxycitronellal, Linalool, Hexyl Cinnamal, Limonene, Geraniol, Cinnamyl Alcohol, Citronellol.
Instructions Gently smooth over body and massage into skin. Avoid contact with eyes.
Shipping & Returns

Standard Delivery: $9.95 or free for orders over $75. Please note orders containing a Fragrance Diffuser or Hand Sanitiser are not eligible for free shipping. Delivered within 2-7 business days.* More info
Express Delivery: $14.95. Delivered within 1-3 business days.* More info

Returns: We accept returns within 30 days. T&Cs apply
About the Fragrance
Fragrance Family
Why You'll Love It
Finally, the city where creativity gets a fragrance--fusing vanilla, coffee flower and patchouli to create a scent worthy of the place where everything is so cool, it can't help but spill out from every perfectly converted loft into the street.
The Melbourne Muse 400ml Body Lotion is part of the Gourmand Fragrance Family. Gourmand fragrances replicate the wonders of food ingredients. Sometimes fresh and fruity, other times sweet and decadent, but always delectable and ready to party.
Discover more Gourmand fragrances here.
A rich and decadent whipped body lotion with rosehip oil and shea butter that will leave your skin nourised and beautifully fragranced.
Filled with everything that is great for your skin and free from things that aren't. No parabens. No silicones.
Not tested on animals.
I absolutely fell in love with the scent that much that I had to get the perfume and candle to match!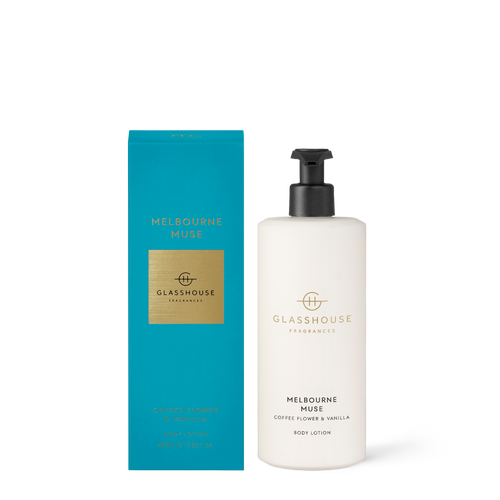 400mL Body Lotion
Coffee Flower & Vanilla